Retirement & Tax Preparation
Many people look forward to various milestones as they get older, be it traveling, grandkids, or retirement. When you retire, the last things you want to think about are commuting, stress, long days – and taxes. In fact, for people of retirement age, taxes may be the largest expense. At Schumacher Sama, we are here to clarify a few things for a happy retirement, and help you to prepare your taxes for a less stressful tax preparation season.
Below are just a few taxes you may have to pay so you're prepared:

IRAs and 401(k)s:
You will begin to incur taxes once you begin drawing income from your traditional IRA. Taxes will be owed on the earnings portions of these withdrawals at your normal tax rate
When you withdraw from your Roth IRA, you will pay no taxes, providing you withdraw according to the rules. However, you need to have the account for at least five years before you qualify to withdraw tax-free.
Similar to a regular IRA, you can incur taxes on your traditional 401(k), 403(b), or 457. Like the IRA, you will be taxed at your normal tax rate.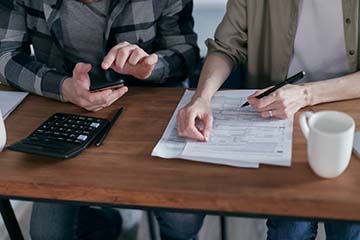 Social Security Benefits:
This can vary depending on how much retirement income you and your spouse receive, and whether you file taxes separately or jointly. However, do not be surprised to learn that you do in fact have to pay taxes on part of your Social Security Income. The IRS does provide worksheets to assist you in how much you may need to pay.
Pension Income:
Tax-deferred investments require you to pay taxes on them; these can include pensions, traditional IRAs, 401(k)s, 403(b)s, and any other retirement plans that fall under tax-deferred annuities. These taxes must be paid the year you receive the funds. Remember that taxes on your pension income vary from state to state.
As you approach retirement, it is a beneficial idea to speak with an accountant well-versed in taxes for retirement age. Since 1960, our team at Schumacher Sama has been providing tax planning, as well as Advisory and Consulting Services and more. If you are in the Greater Milwaukee, Wauwatosa, or Southeastern Wisconsin area, call our knowledgeable team to help you navigate through retirement and how to prepare your taxes